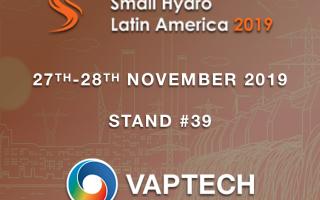 VAPTECH will be exhibiting at the Small Hydro Latin America Exhibition from the 27th to 28th of November at stand #39!
This is the 9th consecutive year that the SHLA Exhibition will be held. It will take place in Medellin, Colombia at the InterContinental Hotel.
2019 is expected to have over 400+ attendees, 40+ exhibitors, 30+ Speakers with a 50% spread of attendees being in directorial positions or higher.
This years key themes will cover:
Social issues in Latin America regarding Hydropower.
Technical Challenges in Latin America.
Ways of acquiring funding and investment.
Regulatory requirements in Colombia and the region.